Full Bucket Music has announced the release of Fury-800, a free virtual synthesizer instrument that is designed to bring the sounds of the 1983 Poly-800 polyphonic synthesizer by Korg.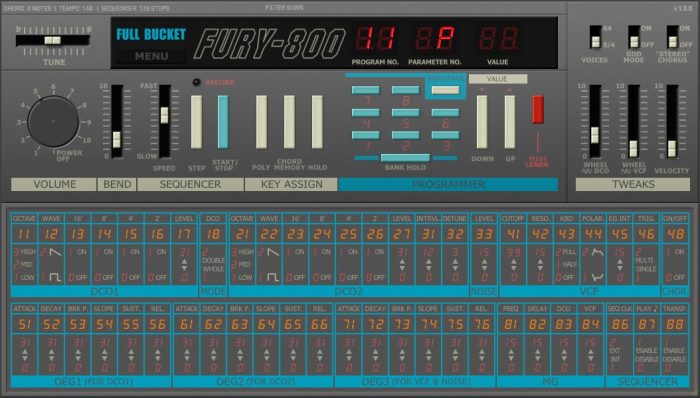 The plugin adds some enhancements such as 64 voice polyphony, optional velocity, sequencer with 256 "real" steps, improved parameter editing, and more.
In the mid 80's, it was time for weird and futuristic designs. It was also time for transition (from analog to digital…) and for relentless cost reduction – how else could one explain the advent of music machines with zillions of parameters but only two buttons to edit them? The Yamaha DX7 became an icon of its time (plus beyond), and other manufacturers gave their new machines a similar look: Parameter numbers and ranges were printed on the face plate, knows/sliders disappeared, pseudo-technical diagrams and LED displays were ubiquitous.

Enter, stage right: The KORG Poly-800 from 1983. It had the look! It was polyphonic! It was programmable! It was cheap (and inexpensive)! It was sexy! Put on a strap and you could pose like a guitar player! It had only one filter for all voices? Ouch…

But it also had some outstanding features that are worth mentioning: Two DCOs, each with their own ADBSSR envelope generators (EG) and a funky way of additive waveform generation, a VCF with its own ADBSSR EG, a Chord Memory and on-board sequencer.
Fury-800 features
Two band-limited DCOs with individual envelope generators.
Two waveforms with additive harmonics (16′, 8′, 4′, 2′).
Single (paraphonic) lowpass VCF and Noise.
On-board sequencer and Chord Memory.
Pseudo-stereo Chorus effect.
Tweaks:

Up to 64 voices polyphony with Velocity.
"God Mode" for real polyphony.
Continuous parameter values and direct access.

MIDI Learn – all parameters can be controlled by MIDI CC.
Plug-in supports Windows (32 bit and 64 bit) and macOS (64 bit).
The plugin is a free download in VST and AU formats for Windows and Mac.
More information: Full Bucket Music