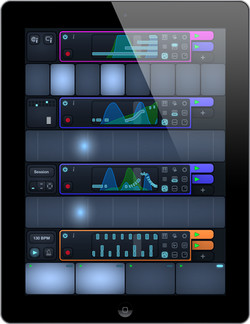 Futucraft has released version 1.0.13 of Cotracks, a collaborative music studio for teamwork on a single iPad.
With Cotracks you can create multiple layers of loops and phrases using multiple instruments. Cotracks is designed to maintain your creative flow and is always ready to capture your ideas, regardless whether you are flying solo or collaborating with others.

It's like playing with a band, but this time you can record and play back your own parts, in perfect sync with others, and create the constituents for a great track at the same time. With Cotracks the whole is greater than the sum of its parts.
Changes in Cotracks v1.0.13
Overdub recording – add new notes to sequences by blending.
Swing – nondestructive time and velocity swing control over the whole song or by individual tracks.
Tap tempo – quickly synchronize playback tempo with external music by tapping.
Audiobus 2 support – available on devices with iOS 7 and later.
IAA – Inter App Audio support.
Cotracks is available for purchase for $4.99 USD.