Future Audio Workshop has announced the release of Circle², a major update to its flagship software synthesizer, Circle.
Since its release in 2009, Circle has achieved cult status, becoming a key tool in the arsenal of both seminal underground and pop hitmakers such as Hudson Mohawke, Arca, David Guetta and Deadmau5.

The 2015 update incorporates several new features, modules and effects, extending the spectrum of sounds that can be composed. Circle² also features a completely redesigned user interface, providing a forward-thinking interpretation of Circle's esteemed user-centred design approach.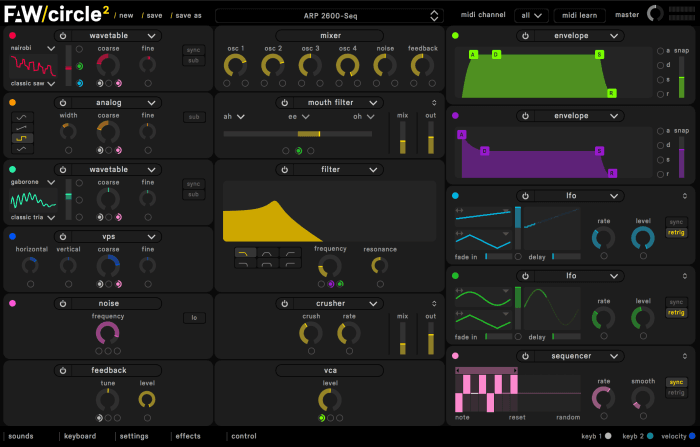 Changes in Circle²
Unique to Circle², the VPS is new type of oscillator, the outcome of a research partnership between FAW and Maynooth University.
Totally redesigned interface. Retina ready and optimised for creative flow.
New Bucket Delay and Tube distortion modules.
Improved preset management via the new preset browser.
Performance enhancements and improved sound via a totally rewritten audio engine.
Utilizes the latest version of JUCE audio framework, resulting in a more stable and future proofed Circle².
Now official support for Reaper, Studio One and Bitwig Studio.
New factory preset bank, full of future leaning sounds, ready for use in your music.
Full 64bit and 32bit support, both on Windows and OSX.
Free upgrade for all existing Circle users!
Circle² for Windows and Mac (VST/AU/AAX/standalone) is now available for purchase at the Future Audio Workshop store and from distributor Plugin Boutique for $129 USD/99 EUR. Circle users can upgrade at no charge.
Extra free preset banks and video tutorials will be released via the Future Audio Workshop Facebook page over the following months.