Push Button Bang has launched Future Weapons, a 1.4GB sample pack featuring everything you need to create the perfect sci-fi battle scenes, war scores, cinematic character and object sound design in games, films, trailers and media projects.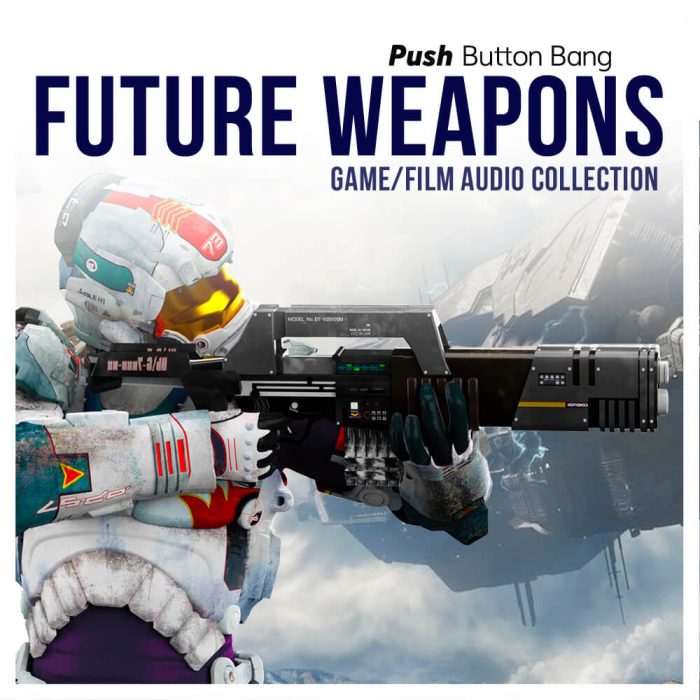 This collection will give you the sound design tools for creating SCI-FI WEAPONS, VEHICLES AND DANGEROUS TECHNOLOGY, to rival any major motion picture – think titles such as Edge of tomorrow, Crysis. Titanfall, Halo and of course star wars.

Designed from the inception to include every detail to create the most ADVANCED and HIGH OCTANE weapon systems, featuring an absolutely HUGE array of OVER 1000 ORIGINAL, CUTTING EDGE SOUND EFFECTS. All completely unique and of the utmost sound quality and original sound design.

Created at 96khz 24bit , with a complimentary 48khz broadcast standard version also included in the pack.

Divided into specific easy-find sub folders, the full list of sections includes 19 Airlocks and Compartments, 05 Automatic Fire, 31 Distant Small Arms, 42 Distant Warfare Ambience, 15 Explosions, 43 Flying Craft Movement, 32 Ground Vehicle Movements, 56 Heavy Weapons, 77 Infantry Weapons, 108 Laser Weapons, 12 Low Frequency Movements, 16 Missile Launchers, 33 Plasma Shell Variations, 25 Robotic Movements, 25 Scanner Droids, 35 Shells & Casings, 22 Small Phasers, 15 Special Lasers, 96 System Display Hud & Lcd, 25 Tesla Weaponry, 23 Vehicle Weapons charged, 59 Weapon Arming Sounds, 31 Weapon Handheld Reloads, 28 Weapon Heavy Reloads, 07 Weapon Large Casings, 30 Weapon Malfunctions, 20 Weapon Motions and 53 Weapon Power Downs.
The Future Weapons pack is available for purchase for £34.95 GBP.
More information: Push Button Bang / Future Weapons