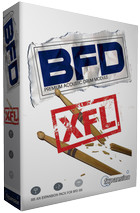 FXpansion has announced a 50% discount on BFD XFL, an expansion pack for BFD offering a hugely varied pallette of sounds to add into your BFD installation.
BFD XFL's 5 DVDs arm you with 22GB of hyper-detailed drum components to slot into your BFD library, all recorded with the same top-end studio gear and microphones as the original. BFD XFL revisits Eldorado Studio to give you the same ambience as that featured in the original BFD library, making its new sounds integrate perfectly with your existing favourites.
BFD XFL features
Expansion pack for BFD.
Huge variety of new instruments, including many rare and desirable classics.
Brushed and malleted versions of many kit-pieces.
Splash, accent and china cymbals, rides with bells and crashes with edge hits.
Kit-oriented percussion including cowbells, jamblocks, tambourines and even handclaps and fingersnaps.
Increased hihat detail and variety: hihat pedal, closed, ¼-open, ½-open , ¾-open and fully open positions are provided.
Even more detail than BFD, with up to 93 velocity layers.
Recorded with the same room, equipment and signal paths to the original BFD recordings, at Eldorado Studios, Burbank, CA.
BFD XFL is now available for purchase at half price for $124 USD (requires BFD or BFD2).
More information: FXpansion