FXpansion has announced that a bundle of BFD Eco & Rock Legends is available for $49 USD for a limited time.
FXpansion has teamed up with Platinum Samples to offer you a unique deal! Purchase BFD Eco for $49 to receive Rock Legends QuickPack for free!

Platinum Samples Rock Legends features a Gretsch kit with kick, snare, 4 toms, 3 cymbals and a hihat. It's played with metal-tip sticks and provides a killer drum sound out of the box!
BFD Eco is available to purchase for $49 USD/39 EUR/£32 GBP inc VAT until August 31st, 2012. A Rock Legends QuickPack license is automatically added to your FXpansion user account upon registering BFD Eco before 31 August 2012.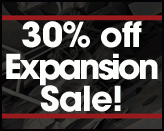 FXpansion has also announced a summer sale for its expansions.
Expand your BFD2, BFD Eco, DCAM: Synth Squad, or Geist installation by taking advantage of our amazing 30% off Summer Sale on all expansions (both boxed and download-only) available from the FXpansion online shop
This offer is valid until July 31st, 2012.
More information: FXpansion