FXpansion has announced the release of BFD Black Album Drums, a BFD pack produced by Chocolate Audio.
This new expansion pack for BFD3 is inspired by the drum sound featured on the 1991 "Black Album" by the band Metallica.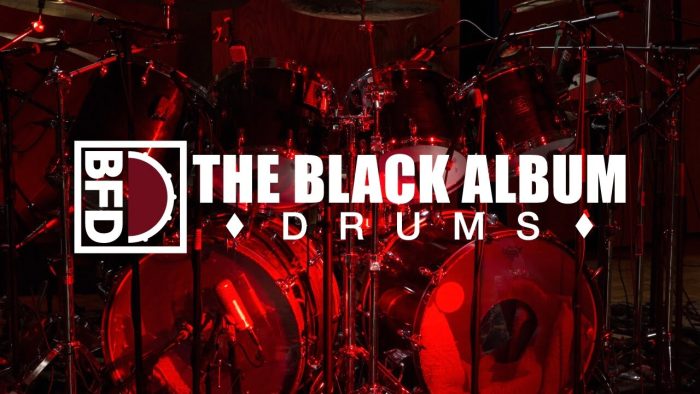 "We managed to track down the same exact kit, record in the same studio (the former One On One in CA), with the same mics and recording techniques as the original drums," said Simone Coen from Chocolate Audio "We also enlisted the skills of renowned recording engineer Mike Tacci who was the assistant on the 'Black Album'."

The original 1980 Gretsch kit along with Zildjian Cymbals, a Ludwig 1970s vintage Black Beauty and a Tama Bell Brass snare were all lovingly recorded in meticulous detail by the same team as BFD Imperial and BFD Modern Retro. With 17 kit pieces in total, sampled with up to 286 samples per articulation and captured by a vast array of vintage and sought after mics including high hanging Neumann U87s, AKG C12s and Telefunken ELAM 251E tube mics, this pack captures one of the signature sounds in the history of Rock music.

"Being in this room again brings back a lot of memories, but it feels like yesterday." said Mike Tacci, engineer for the Black Album Drums. "The room hasn't changed at all, the acoustics are the same and it's an amazing sounding drum room. It's an historic room for Rock records."

BFD3 is the third generation of FXpansion's flagship software acoustic drum studio, delivering new levels of detail and realism with stunning new kits, mix-ready presets and modeling technology for tom resonance and cymbal swells. The revamped interface has a new mixer and sound browser for the easiest BFD experience yet.
BFD Black Album Drums is available for purchase for $125 USD. BFD Black Album Drums requires a registered copy of BFD3 which is available for $349 USD.
More information: FXpansion / BFD Black Album Drums