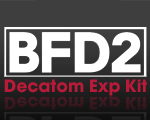 FXpansion has released BFD Decatom, a new expansion kit for BFD2.1, the acoustic drum production workstation.
We've had a lot of requests for Octobans in BFD format, but we thought "why limit it to just eight drums?" At FXpansion we always go out of our way to provide you with the best of everything!

That's why in this kit there are ten DDrum 'Deccabons' with 6" heads, ranging from 6" to 24" in depth. As a result, not only does the pitch vary across the range, but the collection showcases different timbral qualities as you move through the different sizes.

These drums make the perfect accent drum set. Utilizing the tuning feature in BFD2, you can also play melodies and chords. Also, with the new effects in BFD v2.1, adding some Envelope Shaper and Breverb
really make these drums jump out of the mix.
BFD Decatom highlights
10 different toms
Covering over 1 octave
Hit with Sticks & Mallets
Great accent drums
Presets Included
BFD Decatom is available from the FXpansion web shop for $50 USD / 35 EUR / 25 GBP (Prices exclude VAT and local taxes where applicable).
Visit FXpansion for more information and some audio demos.