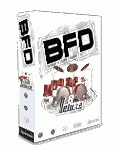 The BFD Deluxe Collection is the third expansion pack for FXpansion's BFD premium acoustic drum module.
Unparalleled in its detail and recording quality, the Deluxe Collection was tracked at Steve Albini's Electrical Audio studio facility in Chicago. The pack contains some of the most sought-after drums and cymbals of all time, recorded at up to 127 velocity layers in pristine detail.
The room in which the session was recorded is smaller and more up-front than the Eldorado room used in BFD and BFD XFL, giving the Deluxe Collection an extremely punchy and defined sound. The recording techniques employed also contribute hugely to the sound and character of the pack. Such esoteric microphones as the Josephson e22, c42 and c609, Royer R122 and the fabled Altec 150 'coke bottles' were used. The clarity and definition of the recordings has to be heard to be believed, and benefit greatly from Steve Albini's years of recording experience at the forefront of American music.
Visit the FXpansion website for more information.