FXpansion has announced the release of BFD Modern Drummer Snare Selects, an expansion providing 12 premium and boutique snares for BFD3, BFD Eco and BFD2.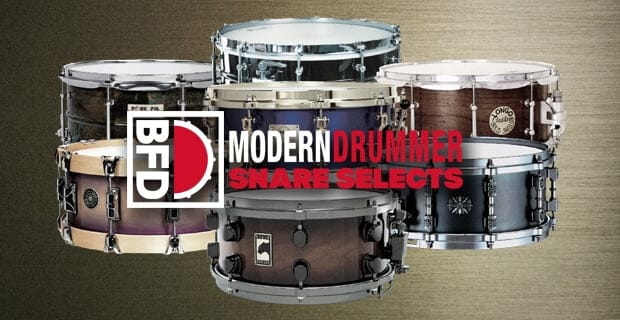 The included snares were all awarded 'Snare Drum of the Month' status by Modern Drummer magazine and represent some of today's most cutting-edge metal and wood shell designs. Recorded with expressive detail levels, the instruments are all provided in snares-on versions along with selected alternate sounds with brushes, rods, hands and with snares off.

When used in BFD3 and BFD2, an additional 'rim click' articulation is available as well as a 'half-edge' articulation for use with electronic drum positional sensing.
Modern Drummer Snare Selects is available for purchase for $99 USD/79 EUR/£69 GBP inc VAT where applicable. Until January 31st, 2016, it is available at a 50% discount in FXpansion's half-price sale.
More information: FXpansion / BFD Modern Drummer Snare Selects