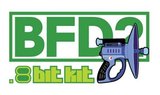 FXpansion has released BFD2 8 Bit Kit, a downloadable expansion pack for the BFD2 software drum module system, offering exciting new flavours for your drum productions.
This new collection of drums, cymbals, hi-hats, percussion and electronics features dozens of unique, vintage, handmade and exotic kit pieces, all captured by a strange and wonderful array of microphones. What makes 8 Bit Kit sonically unique is the way the drums were prepared, tuned and hit.

The kicks are recorded using various unorthodox techniques including chains attached to the front head, detuned, or even hit with a paint roller. Some of the snares have been modified by Husky himself, fitted with calf-skin and Kevlar heads; hi-hats are aged, cracked, mis-matched or warped. An esoteric percussion palette includes African hand drums and Moroccan tambourines mic'ed from both above and below, as well as a range of claps, stomps, junk percussion and even a Fight Bell.
BFD2 8 Bit Kit features
Kicks — 1967 Ludwig, 1940s Leedy Mahogany, Ludwig Floor Tom configured as Kick.
Snares — Rogers Marching snare, Jody Gere 8.5" custom, early 1900s Lionhead with wood hoops.
Toms: Roto-toms (two sets), Frame Drums configured as toms (two sets)
Cymbals — Stainless steel hand made x5, Saucepan lids, mis-matched 13.5"-on-14" hi hat.
Percussion — Bongos, 13" and 15" African hand drums, Moroccan tambourine, 10" Punch Bowl, Fight Bell.
Drum Machines — 808, 909, LM-1, Drumtraks, Oberheim DX.
BFD2 8 Bit Kit Expansion Pack is a download only product and is available now from the FXpansion web shop for $125 USD / 90 EUR (ex VAT).
Visit FXpansion for more information and audio demos.