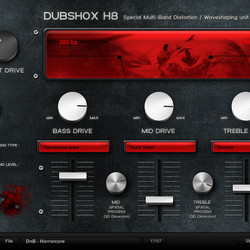 G-Sonique has announced DUBXHOX H8, a multi-band distortion/waveshaping unit 3D dimension expander and effector for bass synths.
DUBSHOX H8 is unique VST effect combining various processors in one. It is designed for heavy music styles like: Dubstep, Dark Drum and Bass / Neurofunk, Electro, EBM, or experimental / minimal techno.

Dubxhox H8 is best in combination with huge baselines and dubstep synths.

If you are producing drum and bass, breakbeat, dubstep or other similar styles and you think that your synthesizer don't have enough kind of sounds / sound colors and is missing fat bass energy or heavy analog character necessary for these styles try to apply Dubshox H8 as effect.

DUBSHOCK H8 combines multiband distortion and waveshaping unit with more than 40 types of distortions and shapers of sound (from analog, transistor / diode or vacuum tube distortions to crazy digital waveshapers.). Every band has knob for drive (amount of distortion) and output level so you can add heavy distortion but without sounding too loud.
The plug-in is available to purchase for Windows (VST) for the introductory price of 18.90 EUR for the first 100 customers (regular 29.90 EUR).
More information: G-Sonique / DUBXHOX H8