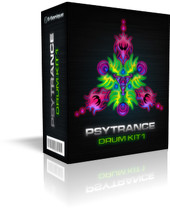 G-Sonique has released Psytrance Drum Kit 1, a sample library featuring 1000+ samples for Psytrance & Progressive trance productions.
The Psytrance and Progressive DRUM KIT 1 by G-Sonique offers more than 1000 special drum samples which emphasize your creative potential and allows you to create professional basis for the tracks – the rhythmical groovy beat that makes people dance!

It has never ever been so easy to create dark, stirring and hammer style percussive dark trance beat, uplifting proggy beat full of natural and liquid percussions, euphoric and energetic full-on beat or mechanically restructured robotic tech-trance beat before!
Psytrance Drum Kit 1 features
116 Kick drums: 116 samples.
284 Percussions: 284 samples.
109 Hi-hats/Open-hats: 109 samples.
147 Snare drums: 147 samples.
71 Claps: 71 samples.
139 Electronic sounds, hits, FXs: 139 samples.
76 FX: 76 samples.
24 Bass: 24 samples.
49 Blips and clicks.
1015 samples in total.
Psytrance Drum Kit 1 is available to purchase for the introductory price of 11.90 EUR for the first 50 customers (+19% VAT for the EU residents).
More information: G-Sonique / Psytrance Drum Kit 1