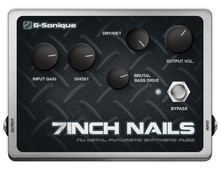 G-Sonique has announced the release of 7inch nails and Envelophase, two guitar effect plug-in for Windows.
7inch nails is a special nu-metal / industrial guitar effect that you've never heard before. It can create special sounding effects or a combination of futuristic synthetic aural vibrations (ghost effect) in combination with a completely mad analog fuzz.
7inch nails features
Input gain (also controls the amount of the effect and synthetic distortion).
Ghost knob (special effect that creates an aural synthetic poltergeist atmosphere).
Brutal bass drive knob (do you want to sound heavy? Turn this knob to the right).
Dry/Wet knob (to controlled ratio between effected and unaffected sound).
Output volume knob (if you do not want to blow eardrums).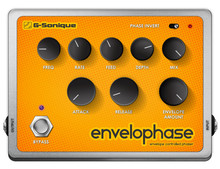 G-Sonique Envelophase is a guitar effect that combines an analog sounding modern phaser with an envelope follower.
The amount and speed of the phasing effect is controlled by the envelope (volume level) follower – so the phasing effect is affected by your guitar playing.

It is a very useful effect for various styles of guitar music from rock, pop, folk, funky or disco. This effect can be used also on all other instruments like piano, rhodes, bass guitar, synths or drums.
7inch nails is available to purchase for 11.90 EUR, the Envelophase is 9.90 EUR.
More information: G-Sonique