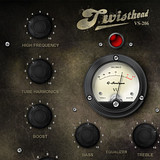 G-Sonique has announced the release of Twisthead VS-206, a vintage vacuum tube preamp effect plug-in for Windows.
UltraFat, dirty or clean, crispy, warm, colorfull sound! This machine behaves like a real analog hardware! It behaves in non-linear way and unexpectedly. Turn one knob a bit and other knob changes its behavior. Input drive affects the resulting sound as well as reaction to values set on each knob. You know these characteristics from analog vintage machines only!

The Twisthead VS-206 isn't classic vintage vacuum pre-amp and vacuum vitalizer for live bands and musicians only… It's also a great for production and mixing of electronic music – it adds huge vacuum heat, color, charisma and XXL fatnezzz to basses, beats and synthesizers …no matter whether you create house, trance, hip-hop or drum and bass.

The Twisthead VS-206 sounds best with live instruments. If you are dirty fakinn rocker, bluesman loving raspy dirty guitars and beats or jazzman demanding colorful and clear sound, the Twisthead VS-206 will magnetize you, especially if you use electronic or acoustic guitars, bass guitars, beats or percussions.
Twisthead VS-206 features
Top emulation of vacuum tubes with rich, fat and colorful sound. It is possible to set the parameters like warmth, saturation drive, brillance (1st harmonics). (This emulation is based on similar technology that is used in Pultronic EQ-110P. However the sound is different. In addition the parameter values are similar to the most legendary vintage pre-amps.)
Vitalizer and colorizer of high frequencies with beautiful analog sound. It is possible to set the parameters like high frequency, tube harmonics, boost.
Input pre-amp and output amp let's you amplify or soften your sound. This way you can change the characteristics and behavior of Twisthead VS-206 device – the level of saturation of signal, amount of higher harmonics etc.
Double internal oversampling for achieving maximal quality of sound with minimum of unwanted artifacts.
Twisthead VS-206 is available to purchase as a VST effect plug-in for Windows PC, priced at 14.40 EUR excl. VAT for the first 100 customers.
More information: G-Sonique / Twisthead VS-206