g200kg has updated its KeroVee pitch correction and RoVee voice changer plug-ins for Windows.
KeroVee is focused to so-called 'Autotune effect' or 'T-Pain effect', that is robotic but different from the vocoder. KeroVee can mix two independent transposed outputs of pitch-corrector and bypassed output.

RoVee is a VoiceChanger / formant tweaking plugin that works as a VST effect. That can convert voices to like male, female, toys or robotic. RoVee is a cut-down version of full featured pitch-correction plugin 'KeroVee'.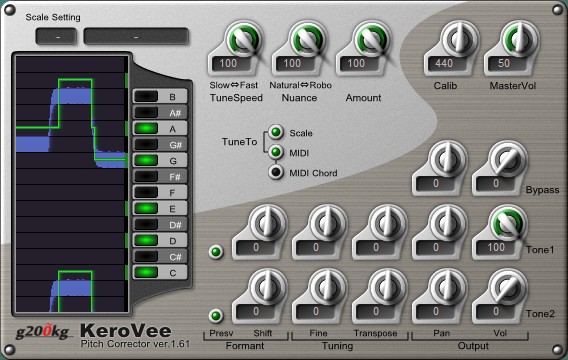 Changes in KeroVee / RoVee
KeroVee 1.61: Fix squealing when low freq noise input.
KeroVee 1.60: Improved noise suppression.
KeroVee 1.60: Nuance parameter is added.
KeroVee 1.60: Optimized to SSE2. CPU consumption is improved.
RoVee 1.21: Fixed, value editing from keyboard is not functional.
RoVee 1.21: Fine adjustment of noise suppressing.
RoVee 1.20: Mis-octave noises are reduced by improved algorithm.
Both plug-ins are available to download for Windows (VST) free of charge.
More information: g200kg