Galbanum has announced 25 Days of Waveforms & Wavetables, a limited time promotion on the Galbanum Architecture Waveforms 2010 collection.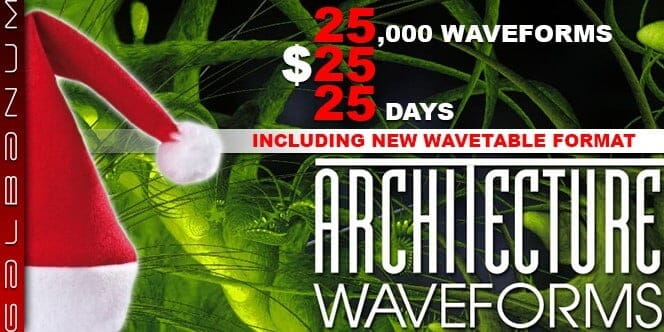 We have just updated the Galbanum Architecture Waveforms 2010 collection to include the much requested Wavetable Format. This format is ideal for use in Wavetable synths such as Xfer Records Serum, Waves Codex, UVI Falcon, and many others. Wavetable synths combine multiple waveforms into a single file that can easily be scanned to quickly change the waveform or morph between waveforms to achieve incredibly dynamic timbres. A good wavetable synth is an indispensable sonic tool, but it is only as good as its wavetables.

Galbanum Architecture Waveforms 2010 Wavetable format, contains the entire collection of over 25,000 waveforms, now optionally combined into over 200 easily manageable wavetables. This is the same content that has been partially responsible for powering awarding winning synths such as NI Massive, Camel Audio (aka Apple) Alchemy, products from Tone2, SynthMaster, ROLI, FAW, and others.
For the next 25 days the Architecture Waveforms 2010 pack (any format, including the new Wavetable format) is available for purchase for $24.95 USD (regular $39.95 USD).
Previous customers of Architecture Waveforms 2010 can add additional formats for $14.95 USD during the Holiday promo, by using the coupon code listed on the order page. The 64-bit WAV format, a special format for advanced sound-designers and developers, is $39.95 USD during the Holiday promo (regular $69.95 USD).
More information: Galbanum / Galbanum Architecture Waveforms 2010