Plugin Boutique has launched a sale on Garritan's award-winning virtual instruments, offering 40% off on the ARIA Player powered Orchestras, Brass, Organs and a collection of World Instruments.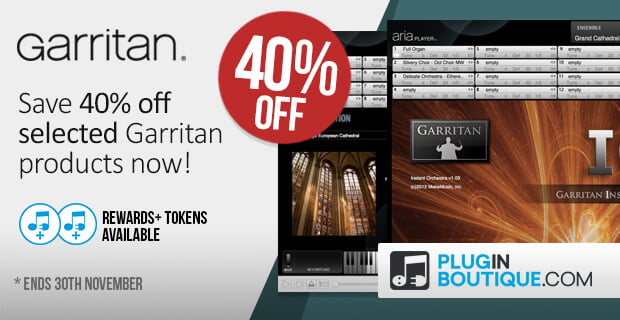 High quality, affordable, authentic tools that educate, enable and inspire musicians toward achievement and excellence. Garritan sound libraries provide musicians with state-of-the-art virtual instruments with the playback quality of a live performance.

Used in conjunction with music-writing software such as Finale, Garritan software libraries provide sounds so realistic they can be indistinguishable from a live performance.
The sale includes the popular Personal Orchestra 5, a complete orchestra with over 500 strings, brass, woodwinds, percussion, keyboards and more to choose from.
Garritan's Instant Orchestra, a revolutionary sound library that reinvents the way orchestral music is created by simplifying and streamlining the process, is also offered at a 40% discount.
The sale ends December 1st, 2017.
More information: Plugin Boutique / Garritan