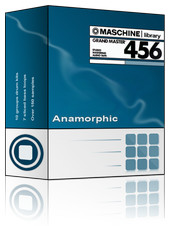 George Poenaru of Soulviasound has released Anamorphic, a sound library for Native Instruments Maschine.
Is a sound library based on 1/4" 15/30 IPS analog tape recorded textures combined with osc signals generated in Stomper, TB-303 and Virus B phrases, all modified and captured with analog gear like Simenes V72, Neve 1073, Pultec EQ, Distressor. In the end, all of these, tuned in MASCHINE.

Textures recording was made on Studer and Ampex reel tape maschines with Gefell UM92.1s, Gefell CMV-563, Film Transducer (for low ends) through Neve 1073, TAB V376a preamplifiers.
Anamorphic features
10 Drum Kits Groups
7 Sliced Loops
over 150 samples
Anamorphic is available for the introductory price of 9.99 EUR until 1 January, 2011.
Visit Anamorphic for more information.