Plugin Boutique has launched an exclusive sale on Sinevibes, offering a 20% discount on its creative plugins and bundles for a limited time only.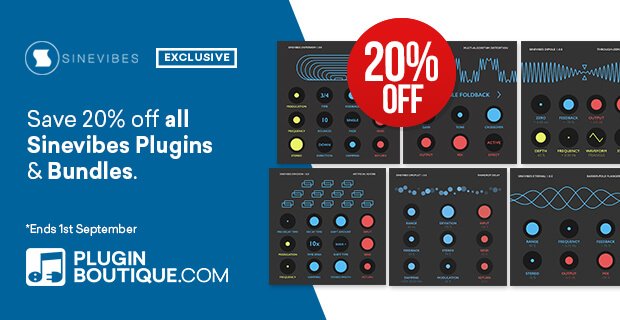 Sinevibes is a company pursuing research and innovations in audio and music technologies, founded in 2004. Its product line is focused on unique software effects and instruments, sound libraries, and tutorial books.
The sale includes:
Alternator Motion Synthesizer.
Array Spectral Sequencer.
Blend Multi-Voice Chorus.
Cluster Animated Filter.
Corrosion Multi-algorithm Distortion.
Dipole Through-Zero Flanger.
Dispersion Unique Delay Modeling Processor.
Drift Chaos System Processor.
Droplet Raindrop Delay.
Emission Artificial Reverb.
Eternal Barber-Pole Flanger.
Flow Animated Flanger.
Fraction Audio Slicing Workstation.
Hexonator Melodic Resonator.
Hologram Spectral Audio Resynthesizer.
Inertia Envelope Sequencer.
Luminance Shimmer Reverb.
Malfunction II Circuit-Bent Filter.
Molecule Multi-Band Processor.
Multitude Delay Workstation.
Reshuffle Real-Time Swing Manipulator.
Robotizer Rhythmic Audio Granulator.
Sequential Multi-Effect Sequencer.
Shift Animated Frequency Shifter.
Singularity Multi-Effected Delay.
Stream Delay Sequencer.
Switch Gate Sequencer.
Torsion Hybrid Synthesizer.
Turbo Wave Transformer.
Turbulence Wave Transformer.
Whirl Phaser.
Bundles are also 20% off during the promotion. The offer expires September 1st, 2019.
More information: Sinevibes