Plugin Boutique has launched a sale on Singularity, offering 30% off on the delay effect plugin by Sinevibes.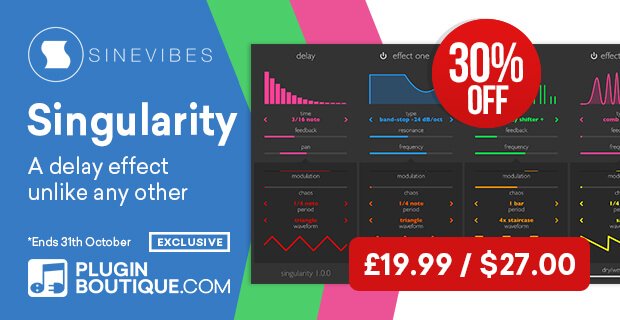 Singularity is a delay effect unlike any other. It starts with a tempo-synchronised feedback delay line capable of true stereo panning, and its tail is then sent into three extremely capable effect units connected in series.

Each of these processors includes a rich selection of different algorithms: from filters, phasers and choruses to digital- and analog-style distortion, frequency shifter and granulator.

In addition to all this, Singularity has four modulation generators for parameter animation – all of which lets you create extremely sophisticated, out-of-this-world delay and echo effects.
Singularity for Mac (AU) is on sale for only £19.99 GBP / $27 USD until November 1st, 2019.
More information: Sinevibes