Plugin Boutique has welcomed Wavelet Audio with a limited time sale on its Kontakt instrument libraries.
Wavelet Audio creates innovative software for modern composers, musicians, producers and sound designers, with a focus on the creation of deeply sampled instruments with new ideas and technologies.
The sale includes Senfine, a handmade extensive toolkit that features a collection of truly atmospheric and emotive sounds which will inject elusive magical atmosphere into your productions.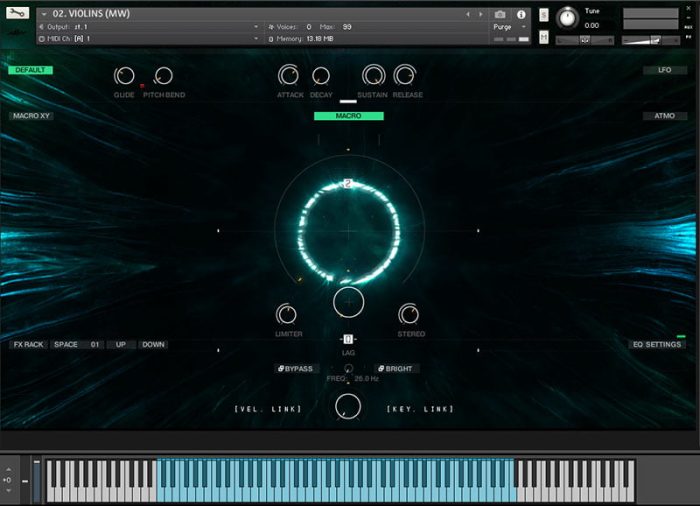 The Kontakt instrument is influenced by the styles of composers and artists such as Hammock, Tony Anderson, Lights & Motions, Jon Hopkins, Explosions In The Sky, Sigur Ros, Ólafur Arnalds, and This Will Destroy You.
Senfine is an extensive sound tool aimed primarily for writing tracks in the styles of cinematic ambient and post-rock. At the same time, it perfectly fits any kind of deep emotional atmospheric projects in a wide variety of genres. It helps to add depth and to provide a gentle atmosphere to your productions. There is everything you might need for making atmospheric and deep sound inside Senfine library: from guitars and orchestral ambient instruments to drums and synths.

The palette of Senfine instruments allows you to get the desired result quickly and easily right from the scratch. No need to use any third-party tools or plugins. Save your time and immerse yourself in the fully inspirational workflow with ready to use instruments. Modern cinematic ambient music is a very unique genre, it contains several styles at once. For a year and a half, Wavelet Audio's goal was to create an audio tool that allows you to control all aspects of writing such kind of music.
Senfine is on sale for $99 USD (regular $139 USD).
The all new Cabal 8 virtual instrument aims to offer a new breed of guitar sampling.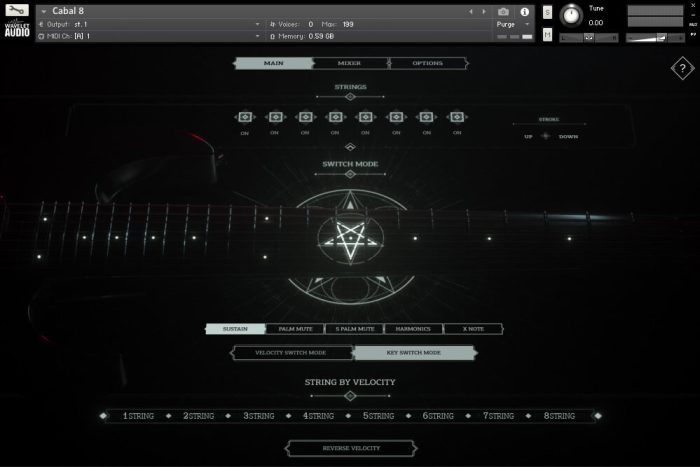 Bring 8-string power to your music. Cabal 8 features tons of fresh and cutting-edge possibilities detailed below.

It includes 3 guitars: Clean DI, Hi-Gain, Crunch. Additionally, Wavelet Audio, together with their colleagues from Audio Assault, added a guitar plugin Bulldozer with their unique presets as a bonus. All this allows you to get the desired result quickly and easily right from scratch. You can literally just sit down and play the guitar.
Cabal 8 features
Stylish, beautiful and intuitive UI for easier editing.
Flexible and adjustable guitar tuning (all strings).
Adjustable pick, fret, scratch, and release noises.
Realistic vibrato and portamento algorithms.
Two modes: for real-time playing and for detailed midi parts.
True doubling.
Adjustable level control per string and articulation.
Possibility to equalize the whole instrument, or specific articulation of a separately selected string.
Possibility to configure articulations routing map.
Over 13500 hand-edited samples in 48 kHz / 24-bit..
6 primary articulations (Sustain, Palm Mute, Short Palm Mute, Harmonics, X-Note, Tappings) and 2 additional articulations (FX Sustain, FX Palm mute).
Up / down picking.
8 Round Robins per note.
3 guitars: DI Clean, Hi-Gain, Crunch.
MIDI included.
Cabal 8 for the full version of Kontakt 5.7.3 or higher is on sale for $139 USD (regular $189 USD).
Cabal 8 Elements only includes the Hi-Gain and Crunch guitars, 6 primary articulations and 2 additional articulations, up/down picking and 8 round robins per note. It is $49 USD during the promotion (regular $69 USD).
The offer expires August 12th, 2019.
More information: Wavelet Audio