Time+Space has announced a sale on the Ivory II Upright Pianos virtual instrument by Synthogy.
The collection comes with the full benefits of the powerful Ivory II piano DSP engine, and includes the Yamaha U5 Modern Upright, 1914 A.M. Hume Vintage Upright, Honky Tonk, Barroom Upright and Real Tack Piano.
Synthogy are the world-leading developer of Ivory II virtual pianos which are the choice of industry professionals and reviewers across the world and during the month of October, they will be running a special promotion on their multi award winning Ivory II Upright Pianos collection! There's savings of over 33% on their classic collection of 4 vintage vertical pianos – get it now for only £139 inc vat!

"…the Upright pack will absolutely enthral so many piano enthusiasts, and actually I can't think of a downside to purchasing this collection at all. It's never felt so good to tinkle the ivories!" – DV247.COM

The heart of this collection is the 4 superb Upright Pianos. Each piano was carefully chosen, and the vintage instruments selected after an exhaustive search among hundreds of vintage uprights. Each piano is brimming with character and recorded with Synthogy's renowned and meticulous attention to detail to capture the unique personalities of these instruments.
Ivory II Upright Pianos is on sale for $199 USD until October 31st, 2019 (regular $299 USD).
Time+Space has also announced a price drop on ProjectSAM, with savings of up to 40% off.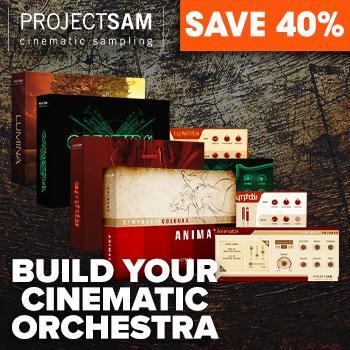 The main keyword to describe the work of ProjectSAM is: cinematic. Their Kontakt Player libraries are specifically created for film, tv and game composers.
Not fully satisfied with the orchestral samples available at the time, they set out to record their own, focusing on three main things:
an ambient, multi-mic setup in a concert hall environment,
the right set of articulations, emphasising on note lengths in-between a sustain and a staccato, to be able to build thematic lines,
instrumental effects that cannot simply be recreated using individual samples.
The 'ProjectSAM sound' is best described as deep and warm. Because they offer each library in multiple microphone sets, the samples fit into any mix easily. A second important aspect of ProjectSAM's philosophy is the focus on unique articulations and effects.
In each of their libraries they include playing techniques, instrument combos and cinematic effects that you won't find anywhere else!
You can now save up to 40% off ProjectSAM's Kontakt Player powered instruments, including Orchestral Essentials, Symphobia, Lumina and Symphobia Colours Animator.
More information: Time+Space