Plugin Boutique is offering a 50% discount on Animate, the effect plugin that helps you inject life into your mixes in a precise, versatile and colorful way.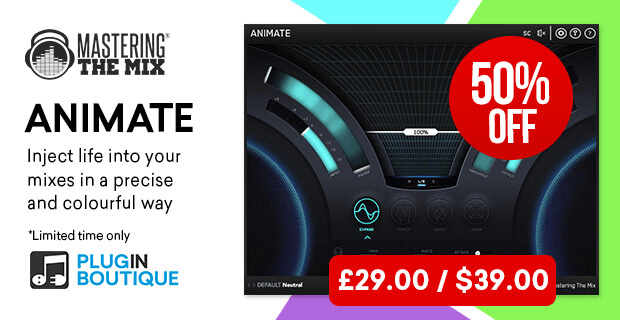 The plugin features 4 different movement modes, each with individual frequency assignments and mid/side functionality.
Expand mode allows you to dial in a pristinely clean sounding upward expansion. This increases the volume of signals over the threshold, giving your audio more dynamic range in a transparent way.

Punch mode enhances the transients of your audio to help them bite through the mix. Whether you want to subtly accentuate the high-frequency transients in the mid-channel of your master or bring out serious smack on an individual channel, Punch can handle the task.

Ignite mode allows you to dial in rich harmonic distortion in a dynamic way based on the input signal. Ignite can increase the perceived loudness, power and presence of a channel without the pumping effects of a compressor.

Grow mode lets you increase the width of the selected frequencies using a psychoacoustic precedence effect. Grow can be applied in a dynamic way meaning only the signal surpassing the threshold is widened. This along with the frequency selection gives you a new realm of movement to inject into your music.
Animate is on sale for only £29 GBP / $39 USD until December 5th, 2019.
Owners of any Mastering The Mix plugin can also save 40% on the upgrade to the Mastering the Mix Complete Collection, comprising Bassroom, Animate, Reference, Levels, Expose, and two eBooks.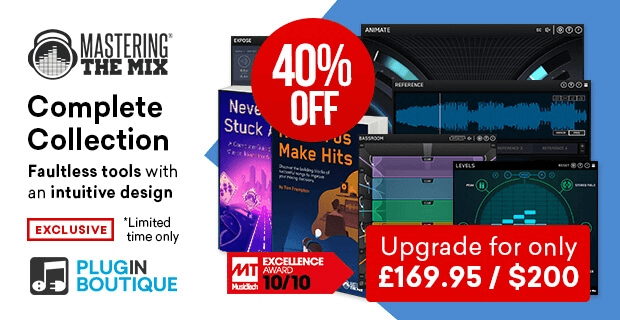 Mastering the Mix specialise in creating faultless tools with an intuitive design and engaging visuals. Across their complete collection, you can find specialist low-end EQs, comprehensive multi-effects and world-class metering tools, all containing the finest sound quality available.

The Complete Collection combines all plugins along with two of Mastering the Mix' very own eBooks, How the Pros Make Hits and Never Get Stuck Again. Respectively, these two books focus on dissecting the detailed elements of successful songs and guiding you through the complete process of turning a musical idea into a finished track, whilst teaching you to make the most of your new Mastering the Mix plugins along the way.
The bundle upgrade is £169.95 GBP / $200 USD during the promotion.
More information: Mastering The Mix