Plugin Boutique has launched a sale on iZotope's Insight 2, a comprehensive metering and audio analysis plugin that is a core component of award-winning post production studios, music studios, and broadcast facilities.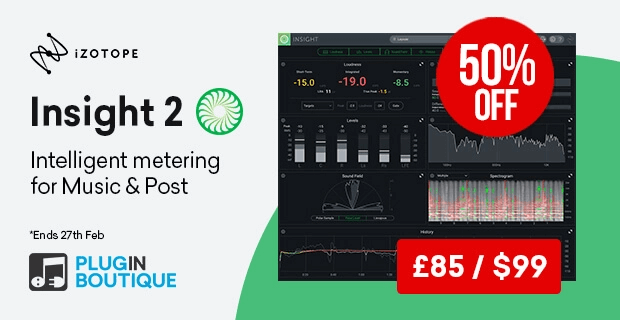 Insight 2 is perfect for visualizing changes made during mixing and mastering, troubleshooting problematic mixes, monitoring the intelligibility of your dialogue, and ensuring compliance with broadcast loudness standards.
With Insight 2, you can immediately detect potential mix problems through real-time visual monitoring and colour-coded alerts. Customize your view by choosing the meters you want to see, set your preferred targets, and resize the window to fit your current workflow. You can also route any audio track in your DAW to Insight 2 to quickly check loudness, levels, intelligibility, phase, frequency content, and more.

With layouts and targets for every stage of post and music production, you can deliver the optimum mix the first time around. Save time and money when mixing and mastering audio by monitoring your audio with the highest accuracy. Keep an eye as well as an ear on your mix at all times with Insight 2!

Insight 2 now supports the Netflix loudness spec!
The Insight 2 plugin is on sale for $99 USD until February 28th, 2020 (regular $199 USD).
More information: Insight 2