Plugin Boutique has announced a sale on Animate: Punch, the transient shaper module of the Animate series of audio plugins that lets you inject life into your mixes in a precise, versatile and colorful way.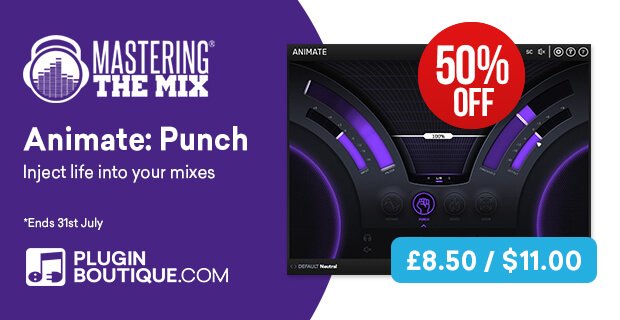 Punch mode enhances the transients of your audio to help them bite through the mix.

Whether you want to subtly accentuate the high-frequency transients in the mid-channel of your master or bring out serious smack on an individual channel, Punch can handle the task.
Animate: Punch is on sale for only £8.50 GBP / $11 USD until August 1st, 2019.
Also 50% off is the Never Get Stuck Again eBook and Audio Book by audio engineer Tom Frampton, a complete guide to turning a musical idea into a finished track.
Unable to understand why your track isn't working and not sure of the next step to take?

This book will give you the information you need so you Never Get Stuck Again. A single resource that you can turn to for inspiration and techniques to help you finish more tracks to a higher standard.
Never Get Stuck Again is on sale for £14.99 GBP / $19 USD.
More information: Mastering The Mix