Audio Plugin Deals has launched a sale on the Super 80's Bundle by BeatSkillz, offering a discount on nearly 80% off regular on a collection of virtual instruments for creating tracks with that retro '80s vibe.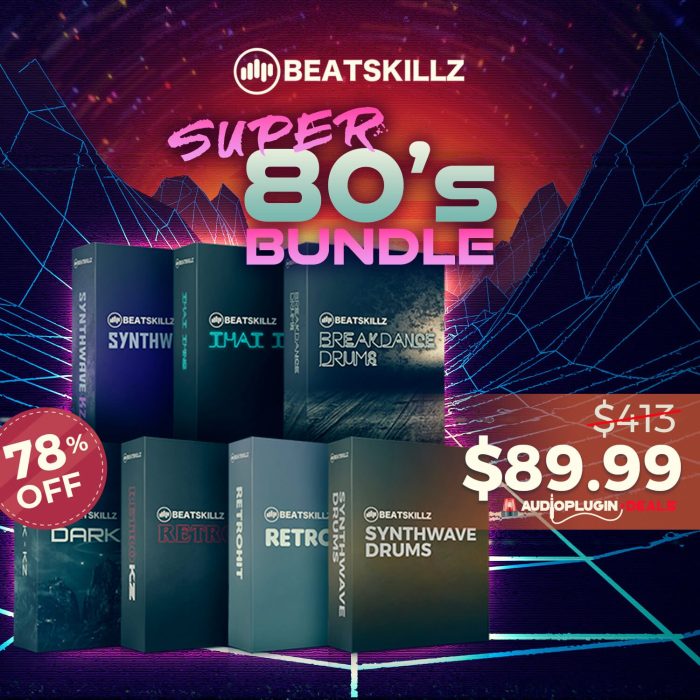 The bundle includes Retro KZ, RetroHIT, Synthwave KZ, Synthwave Drums, Breakdance Drums, DarkKZ, and That Thing, designed as the ultimate tool for the music producers who want to produce '80s revival music with a modern twist, such as Synthwave, Retrowave, Vaporwave, Chillwave etc.
For just $89.99 (instead of $413), get BEATSKILLZ's Super 80's Bundle featuring 7 of their finest virtual instruments that will easily get you that signature retro vibe. From the classic Stranger Things vibe that is currently all the rage, to amazing Synthwave style instruments, this bundle is sure to transport you back in time at an insanely inexpensive price.

This bundle is packed full of instantly usable sounds, focused on a very specific time frame, so they are pretty much guaranteed to drum up some serious nostalgia for fans of 80's music, movies, and TV shows (even a certain modern TV show which takes place in that same time period).
The bundle is on sale for only $89.99 USD until September 15th, 2019.
More information: Audio Plugin Deals