Audio Plugin Deals has launched a sale on the AcousticSamples 4-in-1 Guitar Bundle, offering a huge 83% discount on a collection of virtual acoustic and electric guitar instruments.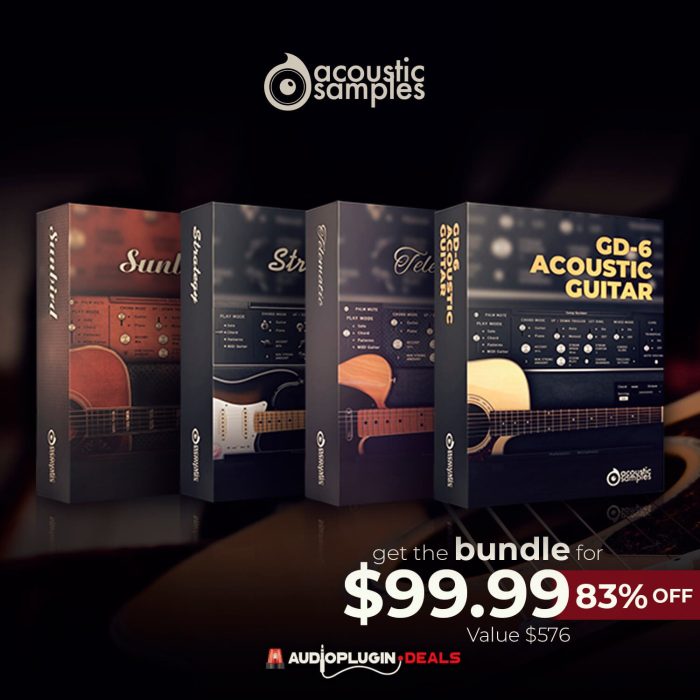 The bundle includes the GD-6 Acoustic Guitar (Guild D-40), Strategy (Fender Stratocaster), Sunbird (1962 Gibson Hummingbird) and Telematic V3 (Fender Telecaster).
For just $99.99 (instead of $576), get the AcousticSamples 4-in-1 Guitar Bundle comprising of GD-6 Acoustic Guitar, Strategy, Sunbird and Telematic V3!

Acousticsamples creates virtual instruments focused on the perfect recreation of acoustic and electric instrument such as guitars, pianos, organs and more.

Originally $576, the whole bundle is now available for just $99.99 for a limited time only (you save a whopping $476). You can also buy just what you need except Telematic V3 which is an added bonus that comes when you buy the whole bundle. Scroll down to read more! This is an amazing no-brainer offer you should not miss!
AcousticSamples 4-in-1 Guitar Bundle features
20GB+ total size uncompressed, 4GB with lossless compression.
Strumming engine (features chord recognition and a smart strumming technique to produce guitar-like chords) and complete control of all its parameters.
Over 130 realistic patterns for easy strumming, picking and advanced playing styles.
Integrated song builder to create songs within minutes and very easily.
Multi velocity Hammer on, pull off, slides up, slides down, mutes, ghost notes, pre notes.
Advanced bend control.
Advanced UVI scripting giving you access to a simple yet powerful interface and advanced features.
TeleMatic V3 only included in the bundle and is not sold separately.
The bundle is on sale for only $99.99 USD until April 3rd, 2019. A purchase also includes $20 USD in rewards which can be used towards any product in the APD Shop.
GD-6 Acoustic Guitar, Strategy and Sunbird are also on sale individually for $64.99 USD each during the promotion (regular $145 USD each).
More information: Audio Plugin Deals