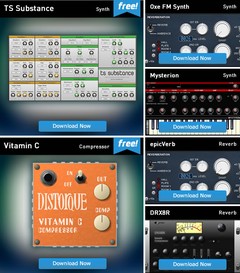 Plugin Boutique has announced the launch of its new Free Plugins Area, offering instrument and effect plug-ins from various developers.
Featuring all types of plugins including Bit Crushers, Chorus, Delay, Filters, Distortion, EQ, Drum Machines, Flangers, Gates, Limiters, Phasers, Modulators, Synths, Mastering Tools and much more including charts to show you the most downloaded and top rated.

Once you are signed up at the site you simply select the plugins you want and they are added to your account to download, and what's more you will also be notified when any of them are updated so you always have the most current versions of them on your computer. If you have the time you can also rate the plugins on a variety of merits in order to help fellow producers choose the best plugins for themselves.

Currently the new free area has plugins from companies including Inear Display, 7air Media, Vladgsound, Distorque, Sinevibes, Melda, Variety of Sound, Softrave, Blue Cat Audio, Minimal System Instruments, GTG Synths and many more.
More information: Plugin Boutique