Boz Digital Labs has launched a flash sale on the Little Foot effect plugin, offering 80% off for a limited time only.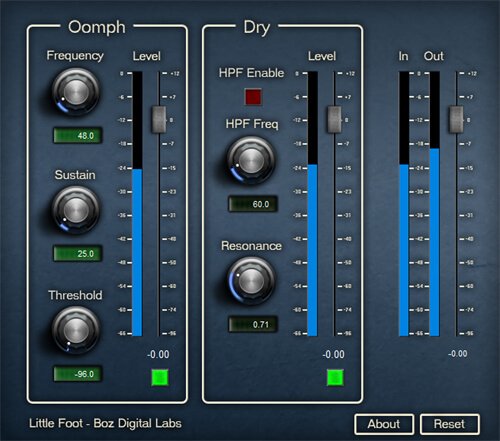 Featuring a super simple layout, the plugin allows you to add oomph to your kick drum in seconds, and easily go from simple natural enhancement to over the top sustain.
We've all had the experience of mixing a kick drum that just didn't have quite the oomph it needed. You can try EQing it, but that just seems to make it flabby and loose. Sometimes you need a little extra beef that you just can't extract out of the kick drum itself. You can replace it with samples, but sometimes that alters the sound too much.

Little Foot lets you add anything from subtle to extreme low end to your kick drum without compromising the original sound. It does this by triggering a low frequency sine wave that plays along with your original kick drum. You can control how deep and how hard this sine wave triggers, and how long it sustains. You can even "tune" your kick drum to match the key of the song.
Regularly $49 USD, Little Foot is on sale for only $10 USD until April 12th from Boz Digital Labs and distributor Plugin Boutique.