Plugin Boutique has launched a sale on Stutter Edit, offering 80% off on the audio effect plugin that you can play like an instrument.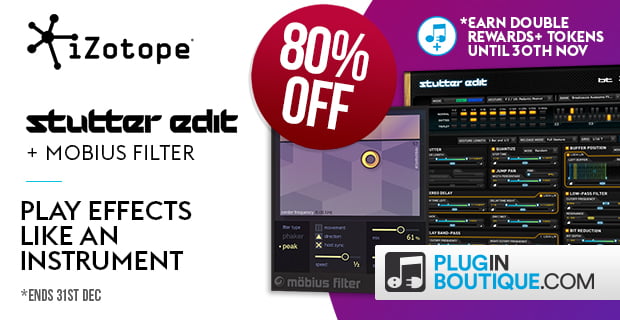 It's an effect. It's an instrument. It's Stutter Edit—an innovative tool for both studio and stage, designed by BT and developed by iZotope.

Tear up your tracks in real-time, building thrilling fills, complex effects, shimmering sweeps, and staggering stutters that will leave your listeners screaming for more. They'll think you spent hours slaving over the slices…but all it took was a press of a key. (Don't worry, we won't tell.)
A purchase also includes a free copy of the Mobius Filter, a "Perpetual Motion Machine".
Add movement and emotion to your music with Mobius Filter's infinitely ascending or descending filter sweeps. Find the sweet spot for your track quickly and fluidly, to push to extreme heights or add subtle hints of motion. Create fresh filter effects for any genre—massive filter swells, psychedelic alternatives to flange effects, or fresh inspiration for adventurous soundscapes.

Based on the auditory illusion of the Shepard tone, Mobius Filter creates perpetually rising or falling effects while maintaining full-frequency bandwidth. Add it to any source audio to instantly create fresh energy for your tracks.
The sale ends December 31st, 2016.
More information: Plugin Boutique / Stutter Edit + Mobius Filter