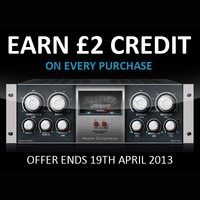 Minimal System has announced that customers will receive a £2 credit with every purchase made for a limited time.
Minimal System believe all customers are valuable and should be rewarded for purchasing from our store. For this reason we introduced our Reward Points system which allows customers to earn points for each product purchased from our store. The Reward Points system has been a huge success with many customers benefitting from huge discounts off future orders.

To add to this we are going to be creditting £2 into every customer account that makes a purchase between now and Friday 19th April 2013. This gives our customers the opportunity to really pick up some bargains!

All credit will be added to your account automatically and will be deducted from all future orders at the checkout stage.
More information: Minimal System Instruments