Plugin Boutique has launched a sale on the Bute Limiter Stereo true peak brickwall limiter effect plugin by Signum Audio, offering a 50% discount for a limited time.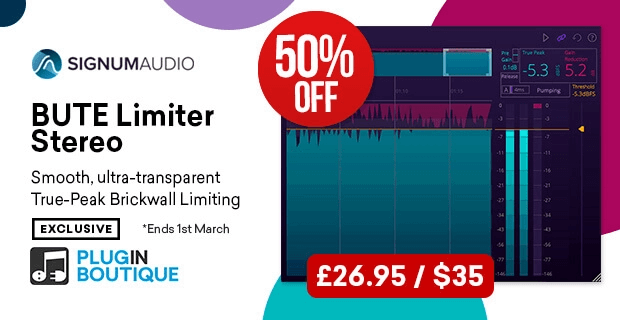 BUTE limiter allows you to boost your levels without clipping and ensures more accurate reproduction of your audio/music on a variety of platforms.
If you're looking for high fidelity pro-audio limiting, look no further. Our smooth and transparent True Peak Brickwall Limiter delivers superior sound quality for use on your final master or individual tracks during mixing.

Designed with absolute transparency in mind, the BUTE Limiter delivers beautifully smooth limiting with no compromises. Our advanced algorithms have specifically been developed to provide pinpoint precision while maintaining total transparency, preserving the fidelity of your original audio and avoiding unwanted artifacts or alterations.

We only use highest quality linear phase upsampling in our True Peak Brickwall Limiter. We have designed our novel algorithms from scratch to guarantee no true peak overshoots helping make this the ultimate mastering limiter for broadcasters and producers. You can see precisely how much of your audio is being taken off on the highly informative graph.
The BUTE Limiter Stereo is on sale for £26.95 GBP / $35 USD through March 1st, 2020.
More information: Signum Audio