Plugin Boutique has launched a sale on its Scaler Creative Chord Composer, offering up to 48% off on the MIDI plugin and bundles featuring tutorial courses from Producertech.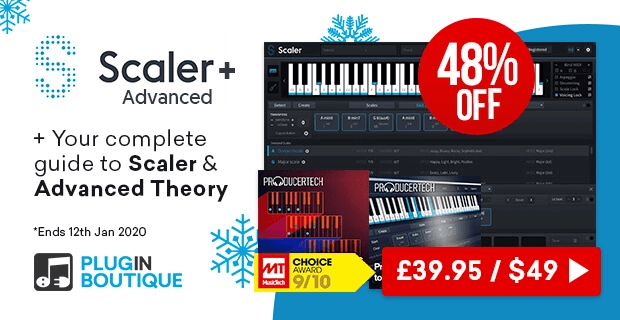 Scaler is a unique and inspirational MIDI effect that makes finding chords and progressions intuitive and fun! With note detection, scale selection and chord suggestions, Scaler is a comprehensive but easy-to-use toolbox that will help anyone make better music.

A first of its kind, Scaler can determine what key and scale you're in and suggest chords that match your music, or it can inspire a tune from scratch by providing a set of initial chords in an unexplored key. With the onboard bank of over 2,000 scales and modes including genre and artist presets, there's more than enough to keep the juices flowing.
The sale includes:
Scaler: £24.95 GBP / $29 USD.
Scaler+ Bundle incl. Producer's Guide to Scaler: £29.95 GBP / $39 USD.
Scaler+ Advanced Bundle incl. Producer's Guide to Scaler and Advanced Guide to Music Theory for Producers: £39.95 GBP / $49 USD.
The offer expires January 13th, 2020.
More information: Plugin Boutique