VST Buzz is offering a 70% discount on the Master Restoration Suite by Wave Arts, a comprehensive set of restoration plugins for cleaning up tape, vinyl, and acoustic recordings.
The tools give extremely high quality results with minimal tweaking, hence they sound great and are easy to use. Every mixing or mastering engineer should have a good set of cleanup tools on hand, and with this bundle, you get a lot of tools for your money!
The Master Restoration Suite comprises of the following modules:
MR Noise ($149) – Stellar sounding broadband noise reduction.
MR Click ($49) – Click and crackle filter for vinyl or digital sources.
MR Hum ($49) – Precise hum and buzz removal.
MR Gate ($49) – Expander/gate for quick and simple background attenuation.
Master Restoration – The ultimate all-in-one cleanup tool.
The Master Restoration Suite is on sale for 53 EUR (regular 177 EUR).
Wave DNA's Liquid Rhythm MIDI beat creation software is 60% off for a limited time.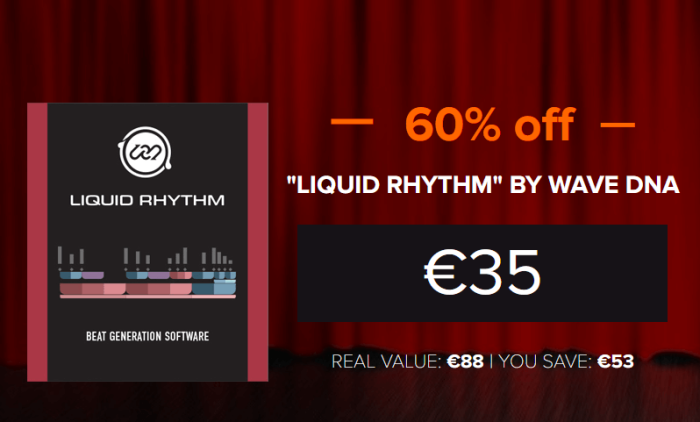 "Liquid Rhythm" lets you create intricate, interesting beats with unprecedented speed and precision. It's the first sequencer that lets you make beats using note clusters and patterns instead of individual notes. And it completely streamlines your workflow.

Get started using the built-in sample library, trigger your virtual instruments, and experiment with new rhythmic patterns. Whether you use a Mac or PC, Ableton Live or other DAWs, Liquid Rhythm will help you realize your music's full potential!
Liquid Rhythm features
The most powerful beat creation software known to man.
Visualize your beats with intuitive Music Molecule technology.
Make complex, unique beats instantly using a collection of rhythmic building blocks.
Tweak and Customize beats in real-time with powerful editing tools.
Get creative with multiple modules including – Beatform Tumbler, Beatweaver, Beatseeker, Maps, Groovemover, Randomizer & Loop Library.
Use Liquid Rhythm standalone, with your DAW, or fully integrated with Ableton Live 9 Suite via the Max for Live bridge.
Compatible with the latest controllers and input devices.
Completely MIDI-mappable, so you can use your MIDI hardware for a tactile and immersive music creation experience.
Built-in scripts for Ableton Push, Novation Launchpad, Livid Base II.
Integrated Tutorial Videos – Liquid Rhythm comes with integrated tutorial videos and a comprehensive quick start guide.
Regularly 88 EUR, Liquid Rhythm for Windows and Mac is on sale for 35 EUR.
The offers expire July 16th, 2019. Prices ex. VAT where applicable.
More information: VST Buzz