Plugin Boutique is offering discounts of up to 77% off regular on the iZotope Elements series of audio effect plugins.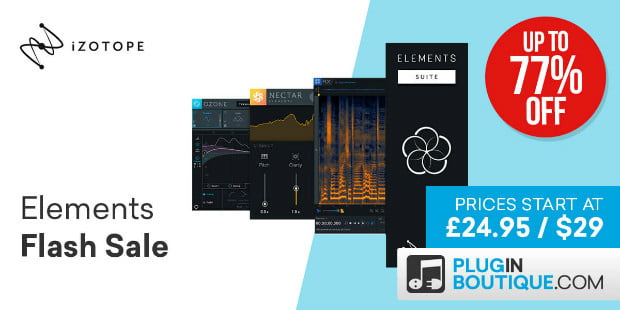 Grab an iZotope bargain! Everything you need for repairing, mixing and mastering with Ozone 8, RX and Nectar Elements.
Give your vocals professional clarity and polish with Nectar Elements. Using the new Vocal Assistant, Nectar Elements analyzes and adapts to your vocal sound, taking the guesswork out of placing your vocal in the mix and letting you make your vocals stand out in just a few clicks.
Ozone Elements features best-in-class processing from Ozone 8 for less. Effortlessly get your mixes radio- and streaming-ready.
RX Elements is the perfect introduction to the world of audio repair, offering essential tools to remove noise, clipping, clicks, and other problems that plague small studios. Get four of our best repair tools, a standalone audio editor, and the brand new Repair Assistant at an affordable price.
The sale ends January 11th, 2019.
More information: iZotope