Toontrack has announced a second batch of Black Friday Week deals with savings of up to 80% off regular prices on selected products.
The EZkeys Dream Machine hybrid instrument that combines a Rhodes and the Celeste is now nearly 80% off.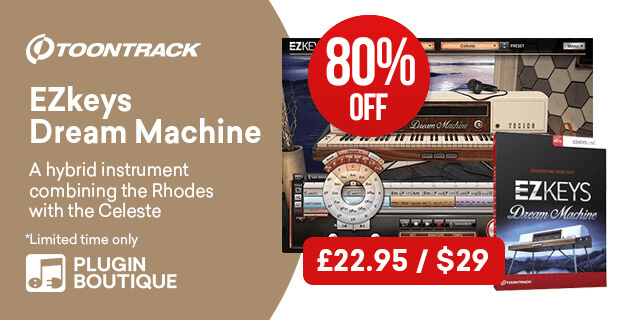 Toontrack EZkeys Dream Machine is a hybrid and preset-driven instrument designed for use in modern pop, ambient soundscapes and soundtracks. It's centred around two main components from opposite ends of the audio spectrum; a Rhodes Mark 7 electric piano as well as an undisputed cornerstone in the melodic percussion family, the celeste.

Both main instruments can be used individually, but together they form unique sonic texture unlike anything ever heard. In addition to these two instruments, a marimba and a xylophone are utilised in the background of several of the many included presets to paint even richer timbres of sound.

All in all, EZkeys Dream Machine is a new creative vantage point in your arsenal of songwriting tools. It's percussive, melodic and, quite frankly, sounds like a dream.
EZkeys Dream Machine is on sale for only $29 USD.
You can also expand your EZkeys with a selection of 4 MIDI packs, on sale for only $10 USD each.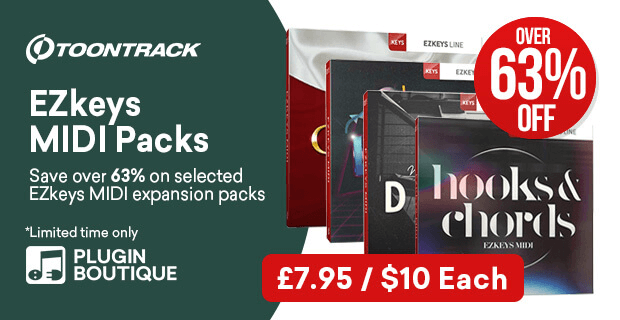 The following MIDI packs are over 60% off the regular price:
Gospel EZkeys MIDI brings the melancholy of the blues, the heartache of soul and the joy of boogie – all encapsulated in the power of praise.
Hooks & Chords EZkeys MIDI offers a creative toolbox of ideas for any writer of pop, rock, scores or commercial soundtracks.
Movie Scores Drama EZkeys MIDI focuses on dramatic scenes that call for equally dramatic scores.
New Wave EZkeys MIDI delivers piano and keyboard variations inspired by the new wave of synth-driven pop predominant in the 80s.
These new offers join the already announced deals on EZmix 2, EZmix expansions and the Rock Warehouse SDX.
The sale is available through December 2nd, 2019.
More information: Toontrack