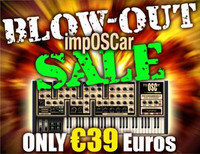 GForce Software has announced a Blow-Out Sale on impOSCar, a virtual synthesizer instrument modeled on the OSCar.
DO NOT BUY IMPOSCAR……..YET….

Because between the 7th and 21st of November the impOSCar will be available to purchase at the unbelievable price of €39 Euros!!

ARE WE MAD?…

Probably, but while we're swatting the last of the impOSCar2 bugs and getting a multitude of things organized behind the scenes, we thought we'd send the original impOSCar off with a BANG!.

Actually, the truth is we've had so many people who have been holding off on purchasing impOSCar because they've been patiently waiting for impOSCar2, we're doing a once in a lifetime deal to (a) make them happy, and (b) as a way of saying "sorry for our lateness".

If you decide to upgrade to impOSCar2 once released, we'll give you €29 Euros off the full web price.

This means that your original impOSCar will have cost you just €10 Euros! In the interim everything you learn on impOSCar is going to be of use with impOSCar2.
More information: GForce Software