GG Audio has announced the release of Spin, an incredibly detailed simulation of several classic rotary speakers.
Spin includes the Leslie 122 and 147, a custom "high power" model and the infamous Yamaha RA200.
Something magical happens when your sound goes through a rotating speaker. Nothing quite sounds like it. Spin recreates the wonderful sound of vintage rotary speakers with warmth and wonder.
Spin features
Classic 122, 147 and "high power" custom rotary speaker simulations.
RA200 cabinet emulation (Pink Floyd fans rejoice!)
British guitar amp cabinet simulation.
3 tube overdrive simulations and high gain British guitar amp overdrive.
Reverb with Room Size and Pre & Post modes.
4 microphone setups including dynamic and condenser choices.
Completely adjustable rotary speeds, acceleration & deceleration.
Accurate microphone spread and distance controls.
Rotary horn diffusers on/off.
Adjustable 3 band output EQ.
Front stop & Memphis control for rotary speaker.
MIDI controller mapping.
Low memory/disk usage.
Low CPU usage.
4 wood finish options.
Spin is available for Windows and Mac in VST/VST3, AU and AAX plugin formats, priced at $49 USD ex. VAT.
The plugin offers the same rotary speaker and overdrive emulation from GG Audio's Blue3 vintage Hammond B3 plugin, and is free to owners of Blue3, which was updated to version 2.0.
The update to the virtual organ includes various user requested features.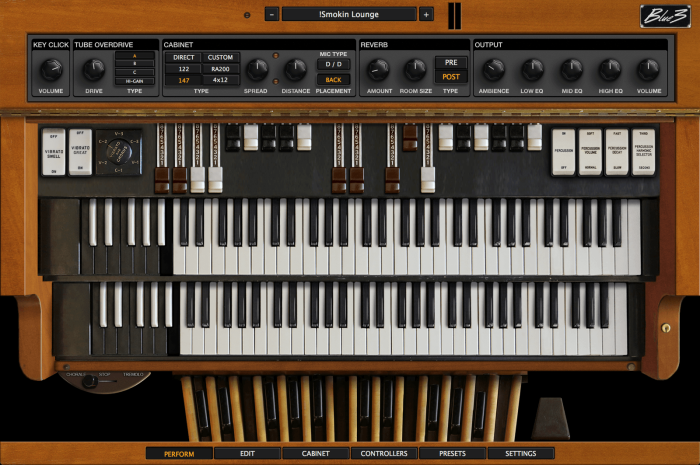 You know the sound. We've all heard it many times. Sweet and angry. Mysterious and powerful. Warm and wonderful.

Blue3 recreates the glorious sound of vintage tonewheel organs with amazing attention to detail. Every component of these wonderful instruments has been captured with all their quirks and imperfections.
Changes in Blue3 v2.0
New 147 cabinet simulation.
New RA200 cabinet simulation.
Reverb with room size, pre or post cabinet.
2 new tube overdrive simulations.
User adjustable Inverted key presets.
Improved Crosstalk simulation.
Less blue, more wood.
All new hyper-realistic UI.
4 Microphone choices.
3 completely adjustable custom tonewheel sets.
New Perform and Cabinet views.
Full support for Native Instruments NKS presets and controllers.
Improved rotary definition.
Blue3 is available for $99 USD ex. VAT. The update is free for all current Blue3 owners.
More information: GG Audio