Giorgio Sancristoforo has released Gleetchlab 3, a sound design and glitch music performance suite.
Gleetchlab is a stand-alone software for glitch music authoring and sound design. Gleetchlab is a modular software designed for realtime sound manipulation.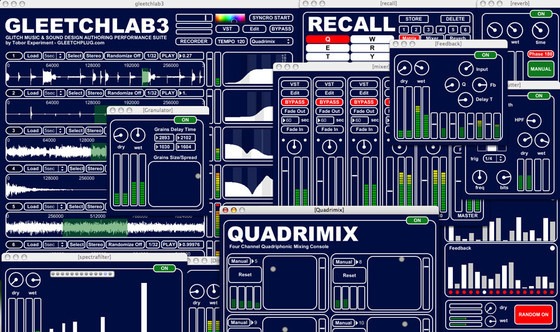 Gleetchlab 3 includes convolution, waveshaping distortion, feedback generators, stuttering, granular re-synthesis, spectral filtering, loop points manipulation, CD skip simulation, wow simulation, and MIDI implementation.
Gleetchlab 3 features
Store and recall every Gleetchlab setting on the fly.
Integrate your favorite VST plugins.
Use surround both in live and recording.
New powerful and odd internal plugins.
Process up to 4 stereo live inputs like guitars, keyboards and voices.
Complete MIDI implementation chart.
Two more sampler players.
Gleetchlab 3 is available for Mac and costs 10.69 EUR. A demo version can be downloaded from the product page (in demo mode the software will fully work for 8 minutes).
Visit Gleetchlab for more information.