Give A Note Foundation (GAN), which provides support for K-12 public school music education programs throughout the country, has launched the Let's Play Music Fund to provide special masks and protective bell covers for brass and woodwind instruments to reduce emissions and make band practice safer.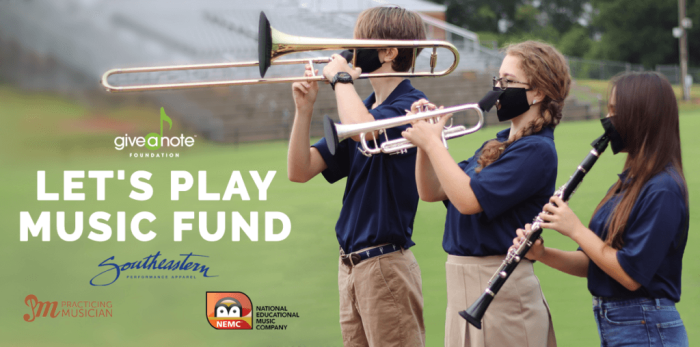 To play music safely in the time of COVID, students need access to special protective equipment.
"It's important to mask the student and mask the instrument," says GAN CEO Beth Slusher. "In the spirit of our mission to nurture music education, Give A Note established the Let's Play Music Fund – along with our partners at Southeastern Performance Apparel, the National Educational Music Co., and Practicing Musician – to provide The Instrument Mask™ and protective bell covers to K-12 public school music programs in need."
A scientific study from the University of Colorado has shown that playing wind instruments releases airborne particles (aerosol). Performing with mask and bell cover reduces emissions.
Slusher says that even small donations can make a huge difference.
"It's a low barrier to entry for both individuals and organizations to get involved. Just $10 outfits a student with both a mask and bell cover, $100 covers the horn section, and $500 provides masks to an entire middle school band."
More information: Give A Note Foundation