Amazing Noises has updated the GliderVerb reverb app for iOS to version 1.8.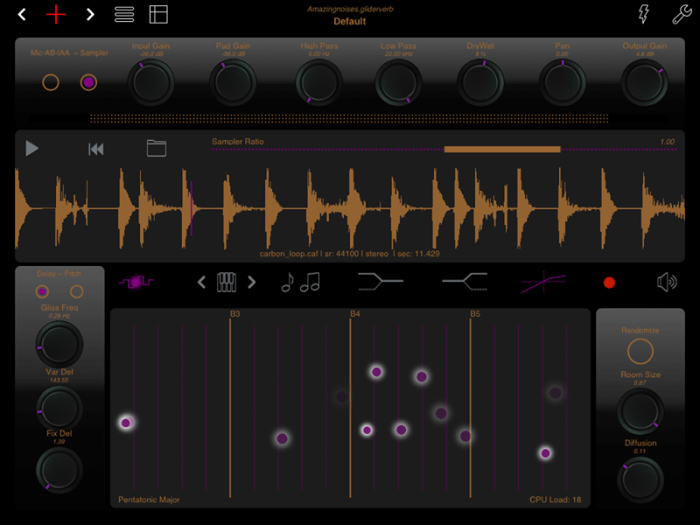 GliderVerb is a "Reverberator with Glissandos" simulating a room gradually changing its shape. It is an expanded version of an algorithm created by James McCartney for his Supercollider 2 programming language.

The original algorithm had no user-variable parameters: this device adds a series of parameters to create a wide palette of effects; from evolving reverberations to granular disintegration to smooth resonances.
Changes in GliderVerb v1.8
Audiobus 3 New MIDI Receiver Port.
New Sampling Rate Setting (up to 96 kHz).
Input Gain and Dry/Wet removed zip noise.
New Quick View for the Presets Manager, simplify the Presets navigation while playing the Keyboard.
New implementation for LFO which improve performance when you put app in background or switch app etc…
Midibus 1.39 SDK.
Audiobus 3.0.3 SDK.
Ableton LINK 2.1.2 SDK.
Removed MIDI Clock Receiving.
Disable Auto-Lock Screen.
iPhone X compatibility.
GliderVerb is available as a free download. Note that the free version no longer has the "annoying voice" and you can use all the Gliderverb features, even the Pad and the Ribbon.
In-App purchases are available to get access to the Preset Manager, Control Manager and MIDI enable the Pad.
More information: Amazing Noises / GliderVerb