Plugin Boutique has launched the exclusive Glitchmachines Sound FX Bundle, a collection of 4 sound effects sample libraries at a discount of over 90% off the regular price.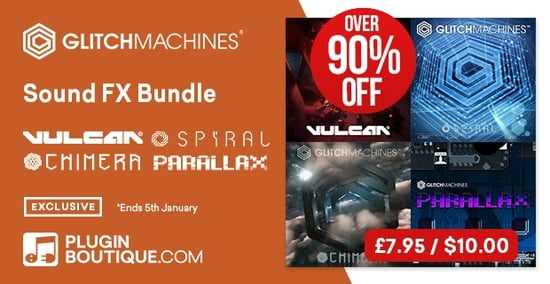 This exclusive sound design bundle boasts a huge variety of meticulously crafted samples designed to complement electronic music, video games and multimedia productions in need of sophisticated, technical and forward-thinking sound effects.

Included are over 2200+ sounds of hostile demons and monsters as well as ambiences of the almost uninhabitable worlds that they might live in. This bundle also contains hundreds of samples of old-school video games and computer technology to provide vintage, digital nostalgia well as a diverse selection of springs and motors from industrial machines, engines and toys.
The bundle includes:
The bundle is on sale for only £7.95 GBP / $10 USD until January 6th, 2020.
More information: Glitchmachines