Plugin Boutique has launched a sale on the Spiral sample pack featuring 400 designed sound effects inspired by geometry, mathematics and motion.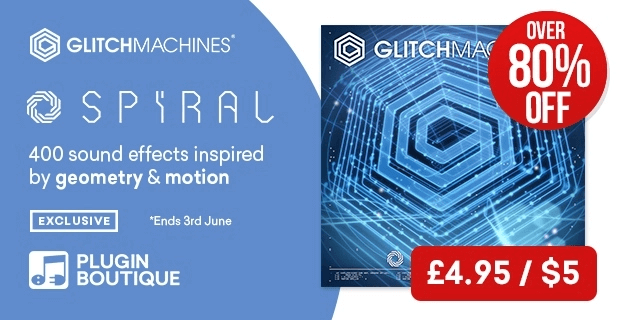 On sale at over 80% off the regular price, the Spiral pack includes 1 GB of content which has been meticulously crafted to compliment modern music, game and multimedia productions in need of sophisticated, technical and forward-thinking sound effects.
Focused on the concept of cyclical fluctuation, we have activated, captured and processed a diverse selection of springs and motors. You will find an assortment of stylized resonant coil articulations, intricately sculpted power tools, mutated helical objects & motorized toys and abstract dual-perspective mechanical brush tones.

While our sound effects are carefully designed to work with your favourite samplers and DAWs, they pair up particularly well with our own brand of audio contortion devices. Our wide selection of packs grant Polygon and Cataract users access to thousands of fresh ingredients.
The Spiral pack is only £4.95 GBP / $5 USD until June 4th, 2020.
The exclusive Found Sounds Bundle comprising Idiom, Dialect, and Metaphor is available at a 78% discount during the sale, priced £32.95 GBP / $39 USD.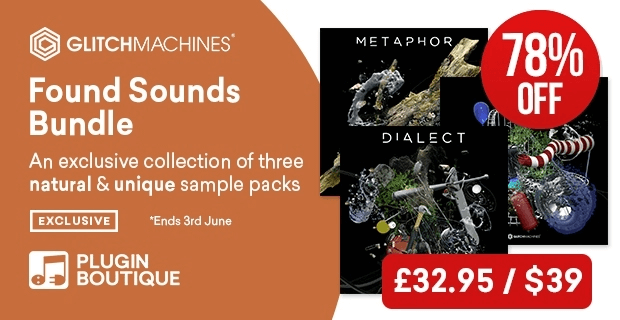 This exclusive collection combines three of Glitchmachines' finest sample packs in one unique set. Featuring an array of found sound effects, this collection is perfect for music production, game audio, art installations, live performances, audio branding, cinematic trailers and much more

This collection offers a deep sonic landscape of raw sounds, natural recordings and compelling soundscapes that will bring a touch of uniqueness to your work.
Furthermore, the recently released Plexus collection of 1,417 synthetic impact sound effects with a high-tech electronic aesthetic is still on sale for the intro price of $29 USD until May 4th, 2020.
More information: Glitchmachines