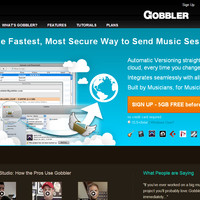 Gobbler has recently released version 0.9.9.7 of its software client, offering various improvements to the backup, transfer, and organizational tool for managing audio project files and assets.
We just released Gobbler V 0.9.9.7 of the client into the wild and there are some pretty sweet new features, improvements, and bug fixes. V.0.9.9.7 features a brand new project scanner, which means that Gobbler will detect and find projects and files faster than ever before. The new build recognizes Ableton 8.3 and Sonic Studio SoundBlade projects and has a number of improvements and bugfixes that we think you'll dig…
Changes in Gobbler v0.9.9.7
New Features:

New & improved scanner detects projects and files faster than ever before!
Ableton 8.3 project support.
Project details window now allows users to open individual files within the latest revision of projects with a simple double- or right-click.

Bugfixes and Improvements:

When upgrading to this version of a Gobbler, a few backed-up projects may be updated onto the cloud. However, this will not cause additional usage of quota.
Fixed a crash when Gobbler was quit right after deleting a cloud-only project.
Fixed an issue where Gobbler used to hang when a project was deleted from disk during upload.
Fixed a few issues with special characters.
Fixed an issue where files with colon (:) characters in them were not openable via Gobbler.
Software update now launches when necessary without having to be logged in.
Added better messaging in the Transfers window to reflect out-of-quota and network errors.
Gobbler recognizes and doesn't scan Time Machine backup locations.
Gobbler now runs in 64-bit mode on 64-bit Macs.
When Gobbler is idle, it uses less CPU.
When set to "Min" throttle mode, backups now start after 2 hours of user inactivity (up from 3 minutes).
The Gobbler client software is available for Mac OS X 10.5 or higher (Intel only). A Windows PC version of the client is currently in beta.
Sign up for Gobbler before June 15 and get 5 GB free.
More information: Gobbler