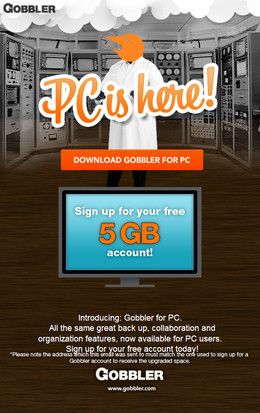 Gobbler has announced the release of a PC Client for its purpose-built cloud designed for digital media creators.
Previously available for Mac and iOS, Gobbler is now available to more than 1.6 billion PC users worldwide, allowing them to optimize their cloud-based experience.

Gobbler is already utilized by more than 40,000 media creators including artists, musicians, pro audio engineers and producers. Gobbler, which is one of the fastest and most reliable file transfer technologies, places the power of the cloud in the hands of digital media creators. Gobbler scans all drives, catalogs the location of all audio in addition to automatically updating changes made to files and can send files of any size to anyone.

Now, media creators using a PC have the ability to set Gobbler to monitor and automatically back-up a project with a collaborator and send the entire project and all its associated files securely and quickly. Similar to Gobbler for Mac and iOS, it automatically catalogs all media project types even if they were not previously backed-up. Receiving projects in Gobbler is faster and more secure than the traditional transfer methods media creators are accustomed to, such as FTP or email.

"We're striving to make media collaboration easier for as many people as possible, said Chris Kantrowitz, founder and CEO of Gobbler. "We already have a loyal following of Mac users who turn to Gobbler, and with the launch of PC, we see a vast opportunity to provide a purpose-built cloud solution that gives media creators a powerful way to share their most valuable assets – their projects."

Additionally, Gobbler announced new pricing terms to coincide with the launch of the PC client, providing users with additional account space and holding prices constant. New users can opt for 5GB monthly of free storage or select one of four tiers ranging from 20GB ($4 monthly) up to 250GB ($30 monthly). All current paid subscribers will be bumped up to the new GB levels Gobbler is launching.
Sign up before August 6th, 2012 for your free 5GB account.
More information: Gobbler