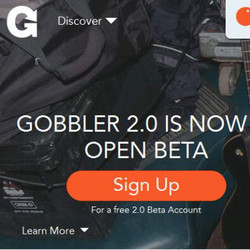 Gobbler has unveiled Gobbler 2.0 as a free open beta.
Far more than an update to the original Gobbler, this is a new paradigm for collaboration. Data management is a pain in the ass – so kick that time-wasting crap to the curb and focus on what matters…being creative!

"We set out to rethink how creatives work together," said Gobbler founder and CEO Chris Kantrowitz. "To eliminate the complexities of communication and file management. To let folks stay in their state of flow and just create and collaborate."

Gobbler 2.0 introduces Workspaces, a new way to manage projects on the cloud that doesn't rely on a host computer for folder organization. Unlike single-folder cloud solutions, Workspaces enable multiple participants to work on the same creative project simultaneously. When a project is synchronized, only the changed elements are uploaded/downloaded, thanks to Gobbler's proprietary technology. Workspaces can be shared privately or publicly – work with select collaborators, or share your work with the world, Github-style. Collaborators can also easily communicate with one another using the new live chat system built in to the Gobbler 2.0 web app.

"Workspaces has really cleaned my shit up," said co-founder Bob Gobbler. "My projects are frickin' sparkling now…I finally know where all of my stuff is!"

The modern creative collaborative process involves more than just the exchange of DAW file types – which is why Gobbler 2.0 supports files of all types as part of projects. Add a JPEG of album artwork, a couple MP3 bounces – Gobbler now handles it all. You'll be amazed at the speed with which your large and diverse projects run on this cloud: with state of the art compression algorithm management, Gobbler 2.0 can optimize transfers based on file type, resulting in far smaller transfer blocks then ever before.

"The shit runs fast!" said Bob.
HGST, a Western Digital company, has also announced a strategic alliance between its G-Technology brand and Gobbler.
With a common goal of delivering innovative solutions for creative professionals, G-Technology and Gobbler are solving some of the most challenging issues with creative workflows by developing technology that melds highly reliable local storage with a cutting-edge collaboration platform designed with the pro-audio workflow in mind.
More information: Gobbler