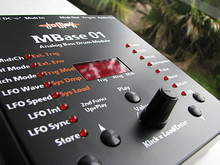 Hugo @ Goldbaby has announced that he will be giving away his JoMoX MBase 01 analog bass drum machine to one lucky customer.
One lucky customer who buys any sample pack from Goldbaby between 31st of January 2009 and the 28th of February 2009 will receive Goldbaby's very own Jomox Mbase 01.

The customer will be chosen randomly on the 1st of March 2009 and will be notified by e-mail on that very day.

We will pay for all shipping costs.
I can highly recommend Goldbaby's products. You can read my reviews of some of Goldbaby's products here.