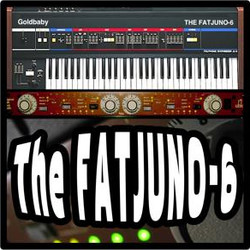 Goldbaby Productions has released The FatJuno-6, a multi-sampled library featuring the sounds of the Roland Juno-6 synthesizer.
The Juno-6 is a 6-voice polyphonic synth. It has digital oscillators with analog filters and a lovely lush analog chorus. Its sound has been described as warm and full. Originally I was going to incorporate this synth as part of FatsoSynths Vol 2. However it became obvious early on that this synth, through the UBK Fatso deserved its own product… thus the FatJuno-6 was born.

The majority of the sounds were captured with the chorus on… this proved to be problematic when creating sustain loops, but well worth the effort! Some of the sustain loops aren't as perfect as I would like because of this… but the payoff is that I was able to capture the wide, warm, wonderful chorus sound!
The FatJuno-6 features
140 x patches.
Patch folders: Juno6_Arp (Kontakt only), Juno6_GoldPresets_Mono, Juno6_GoldPresets_Poly, Juno6_Layered, Juno6_Raw, Juno6_SingleCycle_Osc.
1630 x 24 bit wav samples.
Most of the instruments are multisampled. Only the single cycle ocsillator patches are not.
Every sound has passed through the UBK Fatso to give you that super sweet analog tone!
The FatJuno-6 is available to purchase for Kontakt and EXS24, priced at $49 USD.
More information: Goldbaby Productions