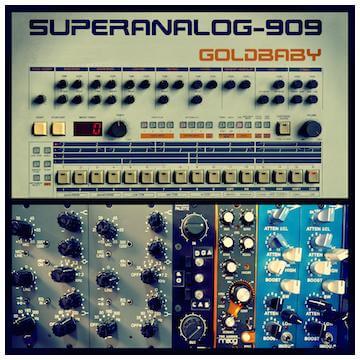 Goldbaby has announced the release of SuperAnalog909, a sample pack featuring the sounds of the Roland TR-909 drum machine.
Super Punchy, warm, analog drums with Round Robin Layering. Using high-end outboard and a compulsive attention to detail… this 909 sample set is pure analog drum heaven.

Why have I created another TR-909 sample set?

I thought I could offer something a little different. This sample pack has been recorded at a higher sampler rate and has extensive Round Robin treatment to recreate the feel and movement of an analog drum machine (Maschine can't utilise round robin yet). The Tape909 used tape to give it extra Mojo… this time I have used some rather tasty outboard, including: The Thermionic Culture Fat bustard II valve mixer, ez1073-500 pre/eq, A-Design EM-PEQ, Moog 500 series ladder filter, DIYRE 500 series Colour Palette, SPL TwinTube, UBK Fatso. Plus various guitar pedals.
SuperAnalog909 features
2,790 samples (24bit/96kHz wav). The wav files will open in any sampler that can load 24bit/96kHz wav files.
Geist: 16 presets and 16 kits.
Maschine: 16 kits (no round robin).
Battery 3: 16 kits & 29 single drum patches.
Kontakt 5: 16 kits & 29 single drum patches (full version of Kontakt only).
Logic Pro: 44 EXS-24 patches.
SuperAnalog909 is available for purchase for $29 USD. The Tape909 sample pack is available at a 50% discount to anyone who purchases the SuperAnalog909. The Tape808 is also half off for anyone who purchases the SuperAnalog808. These offers will appear in your cart when you purchase the sample packs.
More information: Goldbaby / SuperAnalog909